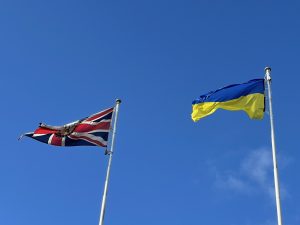 Assistance for Ukrainian students pursuing higher education in the United Kingdom
Good news for Ukrainians, arriving to the UK and dreaming to study in one of the UK's universities!! Ukrainian refugees coming to the UK through the two visa routes: 
Ukraine Family Scheme and

 

Ukraine Sponsorship Scheme

 
will be able to live, work and study in the UK and access public funds immediately. 
The UK government stands for Ukraine and is showing great support to those who fled the war in Ukraine. Starting from September 2022, Ukrainian students will be considered as Home, and thus will have access to student loans. A student loan is money borrowed from the government in order to pay for college or university. Apart from covering their tuition fee, which is £9,250 per year, Ukrainian students are also eligible for maintenance loan, up to £15,000 per year. 
Once arriving to the UK through one of the above mentioned routes, you need  
to apply for biometrical resident permit (BRP), the document that allows to live, work and study in the UK

 

National Insurance Number

 
As soon as your documents are sorted out, the next step is contacting an educational advisor to help you with the application and enrolment process. Smart Beee is a highly qualified consultancy agency, having remarkable experience, assisting thousands of students throughout their educational journeys!  
Why Smart Beee? 
We have great expertise in educational sector

 

Our services are 100% FREE
We speak your language  

 

We will give you proficient advice on the choice of the institution, course and guidance on student finance application

 

We provide FREE interview preparations

 
What do I need to apply for studying? 
Biometrical resident permit, allowing you to stay in UK for 3 years

 

National Insurance Number

 

Bank account

 

Secondary School Certificate ( with transcript and Apostille)

 

Intermediate level of English

 
In order to make your application for studying, you will also need to provide a CV, describing your work experience and educational background together with the motivation letter, named Personal Statement. Personal Statement is an account of your achievements, interests and goals, motivation to study and what outcomes do you expect to get from your degree. 
Apply for Postgraduate Course 
You will need to submit photocopies of your qualification documents to UK NARIC. UK NARIC can provide two officially-recognised documents. The first is a Statement of Comparability, which will include information about the standards of your awards in comparison to UK qualifications. It confirms the status of overseas qualifications and their comparable level in the UK. The second one is Career Path Report, that provides more detailed information about how an individual's qualification compares to UK levels, the education system where the qualification was studied and recommendations for future study and/or professional development in the UK. 
"Access to student support is crucial in enabling refugees to attend education to improve their skills and enhance the ability of Ukrainians to contribute to the UK, or to the rebuilding of their home country," says universities minister Michelle Donelan.