Spot Assessment Event in Bangladesh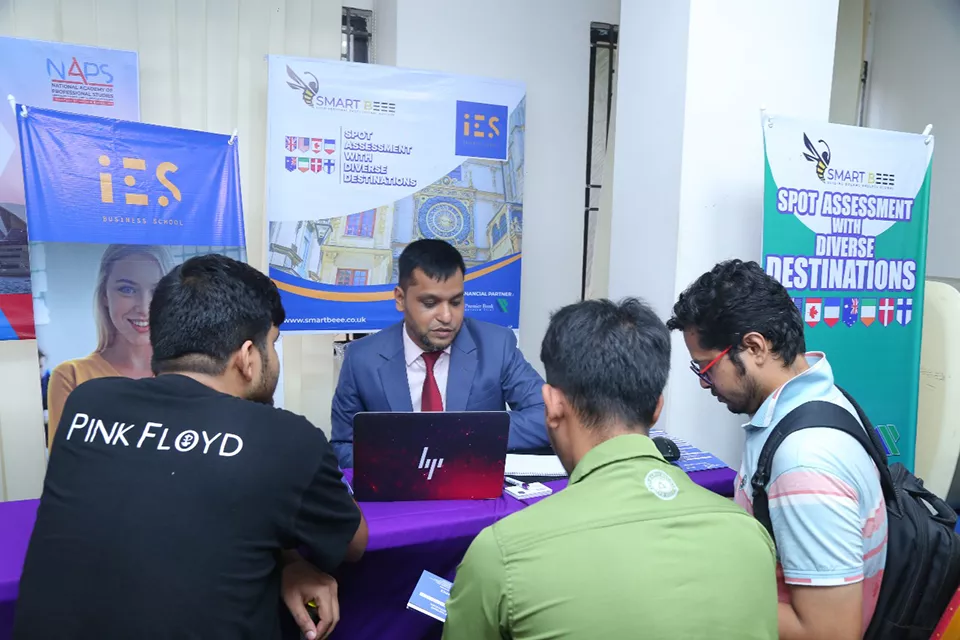 Smart BeeE is thrilled to announce the overwhelming response received during the inaugural Spot Assessment event in Bangladesh! We were excited to welcome a multitude of prospective students who explored a diverse range of educational opportunities across the USA, UK, Australia, Ireland, France, and Denmark. Our dedicated team of experts stood ready to assist these eager students in finding their ideal educational path.
On September 2nd, 2023, from 11 am to 5 pm, our esteemed university representatives invested their time and knowledge to pave the way for student success.
Event Details:
📅 Date: September 2nd, 2023
⏰ Time: 11 am – 5 pm
🏢 Venue: Smart BEEE Ltd, Mahi Hassan Tower (Adjacent to Hosaf Tower, 3rd Floor, Malibagh, Dhaka).
We were fortunate to host:
👥 Joydipa Chowdhury
City Education Group, Ireland
👥 Anthony Costa
University of South Wales, UK
👥 Efrit Karim
Oxford Int. Education Group, Canada & UK
👥 Kazi Arifin Ahmed
Avila University, USA
👥 Tahmid Tokee
GSP, Australia
What did we offer on this remarkable day?
🔷 Personalized Career Guidance: Engaging one-on-one sessions led by industry experts, offering practical insights beyond general counseling. These sessions helped students uncover their strengths, interests, and career paths.
🔷 Scholarship Information: Our experts presented affiliated universities and institutions, sharing details on scholarships, grants, and financial aid to ease the financial burden of education.
🔷 Exclusive Networking Event: Industry experts graced the event, providing students with an exclusive opportunity to expand their professional network.
🔷 Skill-building Workshops: Students had the chance to participate in workshops designed to enhance their higher education knowledge.
🔷 Educational Resources: Smart BeeE provided access to a wide array of educational resources, including online IELTS courses, study materials from various institutions, and career guides.
🔷 Student Success Stories: We shared testimonials and success stories from students who have benefited from our services, building trust and credibility.
In summary, Smart BeeE remains dedicated to offering students valuable insights and resources to support their educational and career journeys. The success of this event serves as a testament to our commitment.
Some glimpses of the event